Create your own Bespoke Retreat: Dates available throughout the year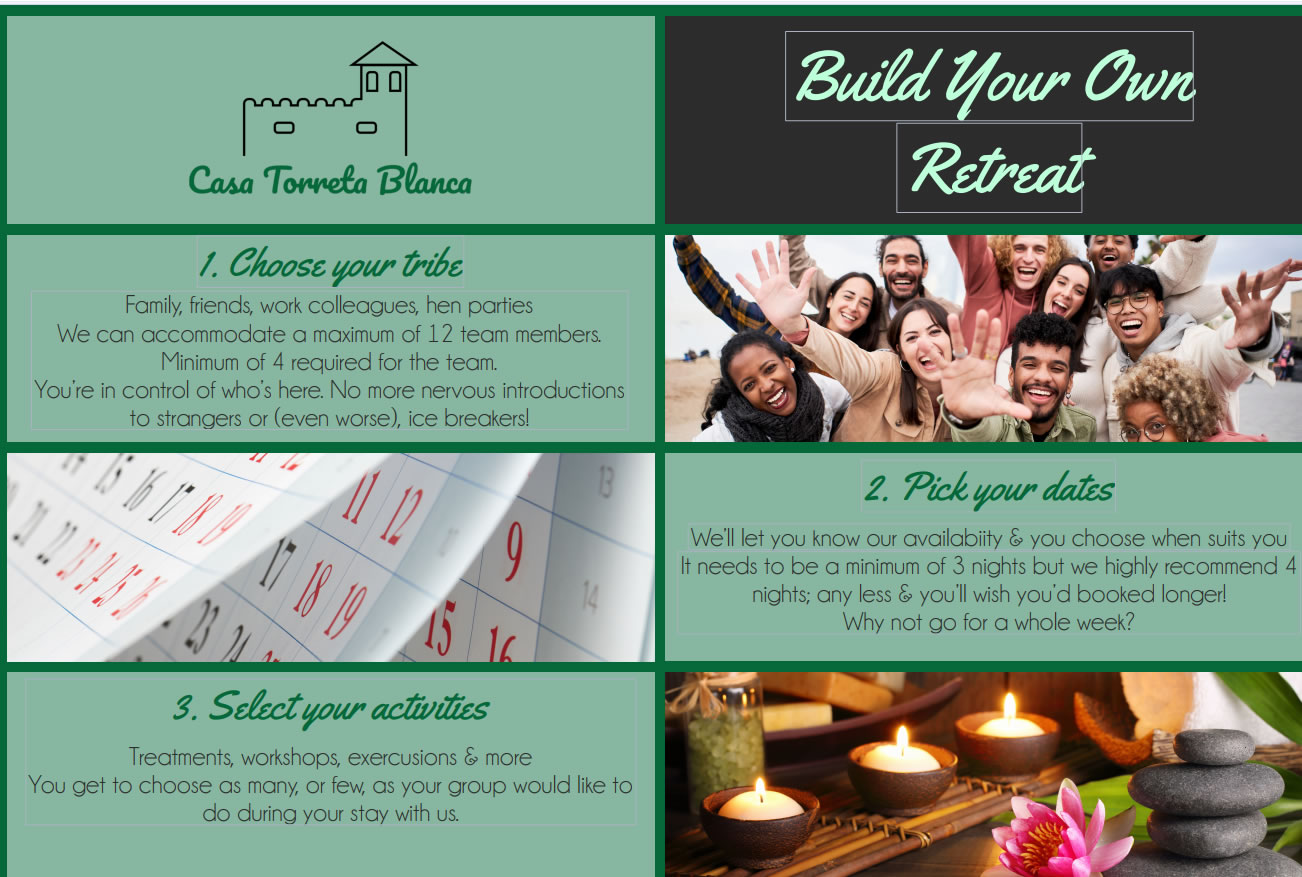 A revolutionary idea in retreats!
Rather than we telling you what to do & when to do it, you tell us!
STEP 1: PICK YOUR TEAM

Family, friends, work colleagues, hen parties
We can accommodate a maximum of 12 team members. Minimum of 4 required for the team.
You're in control of who's here. No more nervous introductions to strangers or (even worse), ice breakers!
STEP 2: PICK YOUR DATES

We'll let you know our availabiity & you choose when suits you
It needs to be a minimum of 3 nights but we highly recommend 4 nights; any less & you'll wish you'd booked longer!
Why not go for a whole week?
STEP 3: PICK YOUR ACTIVITIES

Treatments, workshops, exercusions & more
You get to choose as many, or few, as your group would like to do during your stay with us.
What will you choose?
A kayaking adventure to secluded coves in the beautiful Cabo de Gata
A jeep safari into Europe's only desert & location of many films
A wonderful spa treatment
One of our amazing workshops such as perfume making, introduction to crystals, plant based beauty & more
But don't forget to leave plenty of time to relax by the pool or in the hot tub!
Things You May Be Wondering
What's included in the package?
Accommodation with breakfast, lunch & dinner
Unlimited range of teas, filter coffee & mineral water
Fresh fruit bowls in public areas
WIFI available throughout the house
Towels
Pool towels
Hairdryers
Toiletries
What's not included in the package?
How do I travel to the retreat venue?
For a brochure on Create your Own Retreat, CLICK HERE
OR Contact us if you'd like more details of this new take on the retreat experience by This email address is being protected from spambots. You need JavaScript enabled to view it.